Rebel Soul is on a regular rotation on our calendar at Kickers South, Hudson Florida. Our patrons love Rebel Soul. Their music is always clean, fresh and right on point. They are very easy to dance to, as we have a large line dance following at Kickers. Truly talented professionals. Rebel Soul has always been easy to work with. They are seasoned musicians and their voices mix with a sound that show the talent of great performers. Their fans enjoy the fact that between sets they will come off stage and visit with everyone. True crowd pleasers on and off stage. Great people and great band.
Vickie King-Oswalt
Kickers South





 Rebel Soul is an outstanding band. This the first year that I hired them to perform at my annual Xmas party. I have been throwing these parties for 10 years. I have gone through a few bands and Rebel Soul has been the absolute best. The quality and performance is remarkable. There professionalism and attention to detail is also impeccable. This group is down to earth and just fun loving. Once you get to know them individually you find that they are just like everyone else. They are here to have a great time and they love to give you that experience. My 70+ guests the other evening gave raving reviews and asked me to bring them back again next year. THAT IS A MUST, As long as after I post this that they are not completely booked. :) Thank you Rebel Soul for such a enjoyable and memorable experience. I look forward to future bookings with your band.
Scott L.
 



We had Rebel Soul play at my husband's 50th birthday party and we couldn't have picked a better band!!! They were professional, fun, sounded GREAT and played all of our favorites...new and 'classic'. We have become groupies for life, I highly recommend them!​

Peggy Tucker
Yalaha, Fl




The Rack Sushi Bar and Billiards
1025 West Brandon Blvd
Brandon, Fl
"Rebel Soul has played at our establishment many times. They are always ready to play on time, they rock the house, and they keep the crowd engaged throughout their set. Very professional. You will not be disappointed!"
...Seth R




Ukelele Brands Family Style Rest
4805 Land O' Lakes Blvd
Land O' Lakes, Fl
This is a professional fun band that generated a very positive response from our patrons! They are a genuine crowd-pleaser. Great song mix! We have booked them on a regular rotation thru next year."
...Denise B





Buschwackers Saloon
5210 N florida Ave
Hernando, Fl
"Very energetic and professional! Love having them perform at our venue, Buschwackers Saloon in Hernando, FL. We have been booking Rebel Soul for over a year now and have future dates booked as well! Everyone needs a little Rebel Soul!" ...
Shannon N





Riverside Restaraunt
29250 Lake Lindsey Rd
Nobleton, Fl
"REBEL SOUL ? Hire them right now ! This band is extremely motivated and is going places. I personally have booked this band on numerous occasions. They show up ahead of schedule and make certain all equipment is in order and operating a peak performance. They promote every event to ensure high attendance. They interact with the crowd to achieve maximum entertainment. When 99 % of the bands out there are content to play other bands music, these guys are busy writing and recording their own. They are currently volunteering their time, equipment and performing for a benefit at no cost. This alone says a lot about their character and integrity. Very Professional." ...
Rex M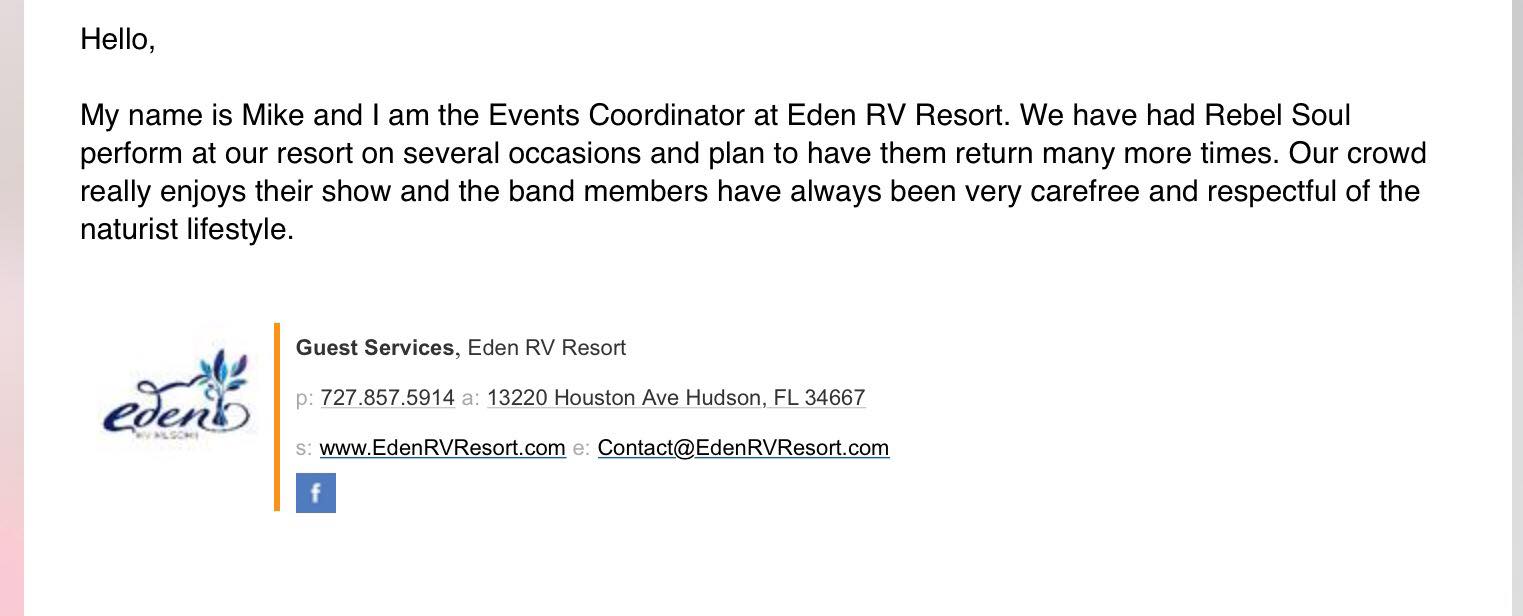 Harry P.
I attended your show last night at JT's Roadhouse.. and I must say it was a breath of fresh air to have a group like Rebel Soul perform there... I am a regular customer there and I have experienced several groups of all genres that have played there and I Place Rebel Soul in the top two or three.... and closer to 1 than 3... I do however believe it would have been better if you could have been booked to play an event there when the backstage is available... like maybe on Full Throttle Bike Night.... you guys keep up the good work... my rating for you guys from 1 to 10 is definitely at 12+....later




Let's keep the comments coming!!!